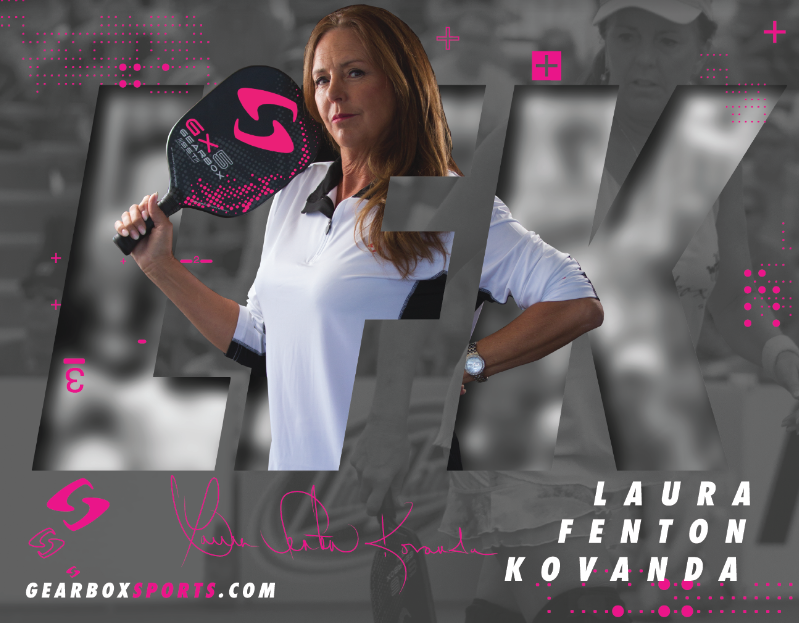 Laura Fenton Kovanda is a 4-time U.S. Open Gold Medalist and 2-time Pro Finalist in the sport of Pickleball. She has also won numerous Gold, Silver and Bronze medals at both the USAPA National Championships and the Tournament of Champions, as well as won over 45 5.0-level tournaments.

What many don't know about Laura is that she is also a National Champion in four other sports (basketball, softball, tennis & racquetball) and was a member of the U.S. National Racquetball Team for 15 years in her 30's and 40's. She holds 5 World titles, 33 National titles, 2 World Pro-Mixed Titles, 2 Pan American Games Gold Medals, and was ranked in the Top 4 on the Women's Professional Racquetball Tour for 11 years. She held the #1 ranking at the age of 44 for 3 months.

But what makes Laura a great Pickleball Instructor? Her background as a college professor over the past 30 years in kinesiology, exercise science, sports psychology, neuroscience and athletic training, combined with her own athletic background, gained her recognition in teaching and training high school, college, professional and Olympic athletes in over eight different sports. She has also been a motivational speaker and sports broadcaster, and now we are very fortunate in that she brings a very different "geometrical, biomechanical and kinesiological view" to the game of Pickleball.
Joey Farias currently treats Tucson, AZ, as his home base but was born and raised in Corpus Christi, Texas. He converted to pickleball after playing tennis for many years. Joey came from an extremely high level tennis background where he played Division I tennis and competed internationally as a world ranked junior tennis player.
In late 2009, he was injured, which, in turn, ended his professional tennis prospects. He then went on to coach college tennis as well as help run a junior tennis academy. Joey coached tennis for 11 years before he was introduced to pickleball in November of 2015 in Lansing, Michigan, by Dan O'Toole and DJ Howard. Dan O'Toole was actually his first tournament partner in a small local tournament and that's what really hooked him. And it didn't hurt that on his very first day on the court, he was playing with the #1 Women's player, Simone Jardim, and her partner, Corrine Carr Siebenstein.
Joey is currently one of the top players in all three pro pickleball events; singles, men's doubles and mixed doubles. He has been coaching athletics now for 15 years and is IPTPA certified and currently travels around the world conducting clinics, running tournaments and promoting Pickleball.
Some of Joey's accomplishments include the following:
2017 US Open Pro Doubles Bronze medalist
2017 Pacific Northwest PPF Pro doubles Gold Medalist
2018 US Open 19+ Mixed doubles Silver medalist
2018 Nationals 19+ singles Bronze medalist
2019 Grand Canyon State Games 5.0 Men's Doubles Gold medalist
2019 Hawaii Open Pro Men's doubles Silver medalist
2019 Hawaii Open Pro Men's singles Bronze medalist
2019 Florida Grand Slam Men's Pro Doubles Gold Medalist
2019 Grand Canyon Men's Pro Doubles Gold Medalist
2019 US Open 25+ Pro Mixed Doubles Gold Medalist
2019 US Open Men's Pro Singles Bronze Medalist